THE MANAGER

Message to Unitholders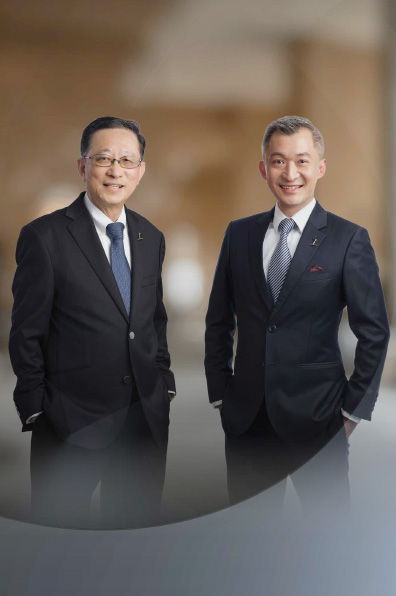 CapitaLand China Trust delivered a resilient performance in FY 2021 despite challenging market conditions. By staying focused on our vision, we swiftly transformed from a pure-play China retail S-REIT to Singapore's largest multi-asset Chinafocused REIT. This was spurred by the expansion of our investment mandate in September 2020 to cover retail, office and industrial assets, including business parks, logistics facilities, data centres and integrated developments.
Our forward-looking portfolio reconstitution strategy is closely aligned with China's dual circulation strategy, which focuses on growing exports and domestic consumption. During the year, we established the building blocks of our new economy asset class by completing the acquisition of five business parks and four logistics assets. This enlarged our portfolio to 20 strategically located properties across China.
Beyond offering income diversification, these moves strengthen portfolio resilience and allow us to leverage different market cycles. By expanding our stable of assets beyond retail, we are wellpositioned to be the proxy for growth in China's future economy across multiple sectors. Our efforts in enhancing our portfolio saw us end the year in a stronger position. Assets under management grew to S$4.9 billion1 – comprising 78.1% retail assets and 21.9% new economy assets.
We are appreciative of our existing and new Unitholders' strong support for the Equity Fund Raising (EFR) that we carried out. Reflecting investors' firm confidence in us, we successfully raised S$150.0 million via a private placement to fund our entry into China's logistics sector with the accretive acquisition of four prime logistics parks.
ROBUST PERFORMANCE
As we capitalised on strategic growth opportunities to rebalance our portfolio, we also delivered a set of positive results. Gross revenue jumped 79.5% yearon- year to S$378.0 million. Net Property Income (NPI) surged 85.2% to reach a new high of S$250.4 million this financial year. This was due to maiden contributions from the five business parks and four logistics assets, 100% contribution from Rock Square2, first full-year contribution from CapitaMall Nuohemule3 and lower rental relief provided, partially offset by the effects of divestment in 2021.
China's zero-COVID approach amidst the pandemic led to the tight restrictions and lockdowns. However, the portfolio experienced positive growth despite more mall closures due to sporadic COVID-19 outbreaks in 2H 2021. FY 2021 retail traffic rose 9.3% year-onyear, while tenant sales improved 16.1% against the previous year. The year in review also saw spending per visit increase 6.2% compared to FY 2020. At the close of FY 2021, occupancy at our retail malls stood at 96.3%. This represented a 2.2% uptick compared to the last financial year, as occupancy rates returned to pre-COVID-19 levels in line with recovery in the retail sector.
Our new economy assets performed strongly. Our business parks occupancy reached 96.2% as at 31 December 2021, 3.9% higher than the previous year. The resilient performance of this segment came on the back of a 7.0% portfolio rental reversion. Meanwhile, our logistics parks reported a strong occupancy of 97.4% at the close of the financial year, above the 96.3% reported at acquisition in October 2021.
STAYING AHEAD WITH PROACTIVE ASSET MANAGEMENT STRATEGIES
We proactively manage leases, refreshing our tenant mix to ensure our malls evolve alongside retail trends, as well as provide high standards of property and customer service touchpoints throughout our portfolio. In FY 2021, we organised numerous events across our assets to engage and cultivate both our shopper and tenant communities.
Staying nimble, we persisted in curating shopper experiences to keep pace with China's dynamic retail landscape. At the same time, we intensified our digitalisation efforts to improve customer engagement amidst the COVID-19 restrictions. We onboarded our retail partners onto the CapitaStar rewards platform to help them integrate online and offline shopper experiences, and capture wallet share of the stay-athome economy. By driving omnichannel offerings, the CapitaStar programme helps our mall tenants achieve more sales and expand their geographical reach. Collectively, these initiatives contribute towards futurereadying our retail portfolio and boosting customers' stickiness to our retail ecosystem.
EXTRACTING VALUE FROM OUR PORTFOLIO
During the year, we remain focused on enhancing our portfolio through several asset enhancement initiatives (AEI). The ongoing AEI at CapitaMall Wangjing will reposition it as a destination lifestyle mall with distinctive retail mix and offerings. We successfully recovered about 14,000 sq m of space from our anchor department store tenant ahead of its lease expiry. This will allow us to optimise the area with a diverse range of quality offerings aimed at improving our connection with today's shoppers. Targeted for completion in 3Q 2022, the AEI will rejuvenate approximately 20% of the prime lettable area across Level One to Level Three and is expected to yield more than twice the original rental income. Rock Square has added around 1,000 sq m of additional NLA to-date, with another 250 sq m to come on stream in 2022 across Basement 1 to Level 2, enhancing shopper circulation and area efficiency.
In 2Q 2022, our Ascendas Xinsu business park will welcome the opening of Bridge+, CapitaLand Group's flexible workspace and community platform, after reconfiguring some of its existing office units and a part of the lobby to increase the leasable area. The addition of Bridge+ will enhance the property's overall attractiveness through the expansion of core-flex workspace solutions.
Another mall that is undergoing major AEI is CapitaMall Yuhuating. Covering around 9,000 sq m, the revamp will enhance shopping experience with improved circulation from Level One to Level Three. Once completed, the revamped area will house more than 30 higher-yielding specialty stores, as we refresh the mall's brands and retail concepts to appeal to a wider customer base. Following the conclusion of Phase 1 of the AEI in FY 2021, Phase 2 is slated to begin in FY 2022, which will further position the property to serve the evolving catchment of families and young people.
ENHANCING DIVERSIFICATION AND RESILIENCE
Our increased exposure to new economy assets positions us to leverage the structural upgrading of China's economy to capture higher-value, service-led growth.
Our diversified business park portfolio features a quality tenant base spanning various emerging high-growth sectors. Around 62.7% of our tenants are from leading edge sectors, ranging from electronics, engineering, e-commerce, information and communication technologies, biomedical sciences and financial services, and comprise reputable multinational corporations as well as up-and-coming domestic companies. This places us in a favourable position to ride China's innovationdriven growth.
We also made our first foray into the logistics sector to better tap growth in China's domestic consumption.
We completed the acquisitions of four prime logistics assets in Shanghai, Kunshan, Wuhan and Chengdu in November 2021. Spread across four cities within CapitaLand's five core city clusters4, over 80.0% of our logistics leases have built-in rental escalations. Located near transport hubs, such as seaports, airports and railways, the assets are well-placed to serve the expanding domestic logistical needs in China's eastern, central and southwest regions. Anchored by a strong domestic tenant base, the facilities are customised with high-tech and modern features to cater to a broad spectrum of e-commerce and logistics needs.
To rejuvenate our portfolio, we unlocked value through divestments of non-core and matured properties. During the year, we divested CapitaMall Minzhongleyuan and CapitaMall Saihan for RMB918.0 million. The capital recycled from these divestments has enabled CLCT to pursue new growth.
PRUDENT CAPITAL AND RISK MANAGEMENT
Continuing our prudent capital management approach and diversifying sources of funding, we maintained a strong balance sheet and the financial flexibility to seize growth opportunities. We completed an EFR exercise via a private placement in October 2021, which received tremendous support from Unitholders. CLCT also benefits from a well-staggered debt maturity profile, with an average term to maturity of 3.4 years and competitive blended cost of debt of 2.62%. Our robust financial matrices have earned us the trust of the banking community, which continue to extend facilities to us at competitive interest rates.
At the end of the financial year, CLCT's gearing stood at 37.7%5 − well below the regulatory limit of 50.0%. Buffering against interest rate fluctuations and foreign exchange, 77.2% of our total debt is on fixed rates6, while 51.0% of undistributed income has been hedged into Singapore dollars.
FOSTERING SUSTAINABILITY
Together with the rest of the CapitaLand Group, CLCT is committed to championing positive social and environmental impact in the communities where we operate. We secured our maiden sustainability-linked loan of S$150.0 million, making CLCT the first S-REIT to receive a loan linked to the sustainability performance of a China portfolio. The year also saw our inaugural participation in the Global Real Estate Sustainability Benchmark (GRESB) Real Estate Assessment 2021, where we garnered three stars with a score of 77 and an 'A' for Public Disclosure (ranked first amongst seven Singapore Retail Constituents).
Throughout the year, we hosted several large-scale green initiatives, including a cycling event, and marked Earth Hour at various malls including CapitaMall Xinnan and CapitaMall Aidemengdun. In safeguarding our tenants' health during the pandemic, we distributed care packages and first aid kits at Ascendas Innovation Tower and Ascendas Innovation Hub.
OUTLOOK
China's 2021 GDP growth exceeded analysts' expectations to expand by 8.1%7. Looking ahead, while the country's growth may ease in the face of near-term property debt risks and new virus outbreaks, we remain positive on the China market in the long term. Backed by our strong financial position, we are wellplaced to navigate market uncertainties and capture new growth opportunities.
On the retail front, we are moving in tandem with China's goals to drive domestic consumption and common prosperity. Targeting middle-income households, our malls emphasise essential sectors and lifestyle offerings that resonate with improved quality of life. In 2022, the retail industry's performance may be impacted by further COVID-19 outbreaks. Overall, social activities in the country have largely normalised, fuelling our continued confidence in China's retail sector.
Following our business parks and logistics portfolio acquisitions, we will see the full-year contributions from these assets in 2022. Alongside this, the structural upgrading of China's economy towards innovationdriven growth is anticipated to drive demand for business park space. This is underpinned by the Central Government's stance with a range of policy tools to support the real estate sector and the economy. Supported by pro-business policies, our business parks are expected to enjoy continued favourable leasing demand. Similarly, we anticipate that our logistics assets will experience good growth driven by the fundamental needs of third-party logistics and demand from manufacturers in eastern and western China, buoyed by ongoing global demand8.
With an eye on the future, we remain committed to executing our portfolio reconstitution strategy. In the near term, we will adopt a disciplined approach as we expand our footprint in new economy assets. Leveraging the broader CapitaLand Group network, our teams on the ground will draw synergies from the wider leasing and tenant platform that spans business and industrial parks in China. This will allow us to anticipate and serve tenant needs across our portfolio effectively. We are confident in leveraging our track record and the Sponsor's deep domain knowledge to achieve future growth in the new economy sector. Concurrently, we will seek to unlock value from mature properties at the opportune time, with a view to recycle the capital to reconstitute our portfolio.
As the dedicated Singapore-listed REIT for CapitaLand Group's non-lodging China Business, CLCT enjoys acquisition pipeline access to CapitaLand Group's assets. This positions us to capture new opportunities from our Sponsor, in addition to third-party vendors, to build a resilient sector-diversified portfolio capable of riding cyclical changes.
AWARDS AND ACKNOWLEDGEMENTS
We are honoured that our commitment to excellence and investor communications were recognised by the industry. CLCT was named "Best IR during a Corporate Transaction" and "Best Use of Multimedia for IR" at the 2021 IR Magazine Forum & Awards – South East Asia.
On behalf of the Board, we would like to extend our utmost appreciation to Mr Fong Heng Boo and Mr Lucas Ignatius Loh Jen Yuh. Mr Fong retired as the Chairman of the Audit Committee on 31 December 2021 after nine years of service, while Mr Loh stepped down as a Non-Executive Non-Independent Director and Chairman of the Executive Committee on 1 May 2021. The Board and Management thank Mr Fong for his counsel during CLCT's growth journey from 2013 to 2021, and acknowledge Mr Loh's valuable contributions throughout his tenure. We wish both of them success in their future endeavours.
At the same time, we warmly welcome two new Board members. Professor Ong Seow Eng was appointed a Non-Executive Independent Director on 1 January 2022, while Mr Puah Tze Shyang joined us on 26 October 2021 as a Non-Executive Non-Independent Director.
Amidst the challenges of COVID-19, we are grateful to our Board for their guidance as we navigate CLCT towards a stronger footing. We would also like to express our sincere appreciation to our Unitholders, business partners, tenants, customers and employees for their unwavering support. Underpinned by strong business fundamentals, we will continue forging ahead to create value and deliver sustainable returns for our Unitholders.
Soh Kim Soon
Chairman
Tan Tze Wooi
Chief Executive Officer
10 March 2022
Based on effective stake as at 31 December 2021.
CLCT completed the acquisition of the remaining 49% interest in Rock Square on 30 December 2020.
CapitaMall Nuohemule opened with 100% occupancy in December 2020.
The five core city clusters under CapitaLand's China strategy are Beijing/Tianjin, Shanghai/Hangzhou/Suzhou/Ningbo, Guangzhou/ Shenzhen, Chengdu/Chongqing/Xi'an and Wuhan.
In accordance with the Property Funds Appendix, the aggregate leverage is calculated based on the proportionate share of total borrowings over deposited properties.
CLCT's hedging policy is to hedge at least 50.0% of undistributed income into SGD and at least 60.0% of total debt to fixed interest rates. This excludes RMB denominated loans.
Source: China National Bureau of Statistics.
CBRE: Record high leasing demand heralds start of new growth cycle, China, 3Q 2021 MarketView.