THE MANAGER

Message to Unitholders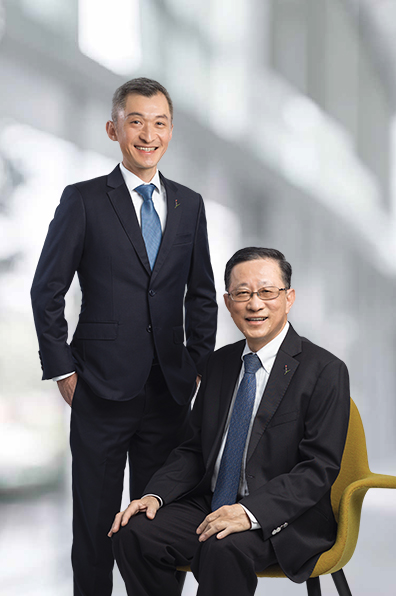 2020 marked a challenging yet transformative year as we ushered in a new chapter of growth. We expanded our investment mandate to cover retail, office and industrial assets, including business parks, logistics facilities, data centres and integrated developments. We fortified our lead as Singapore's largest China-focused REIT by acquiring five business parks and the balance 49% interest in Rock Square for around RMB4,945.0 million (approximately S$1,005.5 million) — our largest acquisition to-date. We successfully raised our largest Equity Fund Raising (EFR) of S$326.1 million, comprising a private placement and a preferential offering that were both oversubscribed, affirming the confidence from both long-term and new investors in our strategic goals. CLCT ended the year strongly with S$4.3 billion in total assets and a record market capitalisation of S$2.1 billion1.
The rebranding of CapitaLand Retail China Trust (CRCT) to CapitaLand China Trust (CLCT) reflects our renewed focus to achieve a more balanced and diversified portfolio mix across China's multi-asset sectors. With our enhanced stable of 13 shopping malls1,2 and five business parks1,3 in 11 leading provincial cities, we are well-positioned to be the proxy for China's growth opportunities in new economy sectors driven by next-generation Information and Communications Technology, biotech, and digital innovation.
Notwithstanding these efforts, FY 2020's performance was impacted by measures extended to support tenants' business recovery amidst a challenging COVID-19 environment, the absence of CapitaMall Erqi's contribution following its divestment on 28 May 2020 as well as lower average portfolio occupancy and rent; offset by incremental contributions from CapitaMall Xuefu, CapitaMall Aidemengdun and CapitaMall Yuhuating, which were acquired on 30 August 2019. CLCT reported a gross revenue of S$210.5 million and net property income of S$135.2 million, a year-on-year decrease of 11.6% and 18.2% respectively. Affirming our commitment to Unitholders, we maintained a 100% dividend payout, equivalent to a distribution per unit (DPU) of 6.35 cents for 2020.
ADAPTING TO THE NEW NORMAL
The retail sector was particularly affected by the scale and impact of COVID-19. Apart from Food and Beverage (F&B) outlets that were allowed to do takeaways and delivery orders, all non-essential businesses were mandated to shut. At the lowest point of this health crisis in 1Q 2020, 34%4 of our retail tenants were operational. Our top priority was to ensure the health, safety and wellbeing of shoppers, tenants, staff and the general public. Safe distancing and crowd-control measures were strictly enforced.
An open mindset has been key to navigating the unprecedented challenges. Demonstrating solidarity with tenants, we reviewed rental agreements and tailored relief packages based on mutual needs. Rental restructuring and flexible leasing schemes were aimed at balancing occupancy and optimal tenant mix in the short term. All in, about 1.5 months of gross rental relief were extended to our retail tenants in 2020.
Throughout the year, proactive leasing strategies were implemented for us to stay relevant with the retail trends that emerged post COVID-19. These included introducing more F&B tenants with takeaway concepts, welcoming up-and-coming domestic brands into our ecosystem, as well as retaining and attracting consumer brands with a strong following. Accelerating our omnichannel approaches, digitalisation efforts were stepped up to capture wallet share of the stayat-home economy. Our established CapitaStar rewards programme, a leading digital marketing platform by a real estate player in China, supported this endeavour with its expansive ecosystem of more than 12 million registered members in China5. This enabled us to obtain deeper insights on purchasing behaviours as we leveraged data analytics to design better and more targeted activities suited to consumer needs. Additionally, we rode on the latest social media trends, engaged with shoppers through live-streaming events featuring top influencers, and collaborated with tenants to roll out attractive offers to increase awareness and sales.
These concerted responses resulted in sustained improvements in shopper traffic and tenant sales across each consecutive quarter. As at 31 December 2020, the total occupancy rate for our retail portfolio stood at 94.1%, supported by a diversified spread of over 14 trade categories.
UNLOCKING VALUE THROUGH DISCIPLINED PORTFOLIO RECONSTITUTION
We continued to unlock value from our non-core matured properties, and recycled the proceeds to improve our balance sheet and capital reserves. We divested CapitaMall Erqi for RMB777.0 million (approximately S$150.8 million) at 20.5% above valuation, ahead of schedule in May 2020. In February 2021, we divested CapitaMall Minzhongleyuan, another non-core asset with limited upside, for RMB458.0 million (approximately S$93.4 million). To-date, four of our original seven IPO assets6 have been divested, with proceeds redeployed towards improving portfolio quality.
STRENGTHENING LONG-TERM RESILIENCE AND GROWTH
In September 2020, we announced our expanded investment strategy to capture opportunities in the broader real estate market that are strongly aligned with China's latest 14th Five-Year Plan. This strategic move allows us to tap into China's future economy, driven by the country's focus on domestic consumption and innovation-based industries. Designated as CapitaLand Group's dedicated Singapore-listed REIT for non-lodging assets in China, our acquisition pipeline has access to CapitaLand China's wider network of properties, which puts us in a prime position to capture the new opportunities. We will also source and identify third-party assets in our drive to create a diversified portfolio with better growth prospects and resilience across market cycles.
In November 2020, we announced the DPU-accretive acquisition of five business parks7 located in Suzhou, Xi'an and Hangzhou, together with the balance 49% interest of Rock Square in Guangzhou. This strategic move increased our exposure to new asset classes in provincial cities that are well-placed to support and benefit from China's industrial transformation and economic growth initiatives.
The inclusion of these high-quality assets will expand our gross floor area by 76.0% and uplift our total assets under management by 28.5% to about S$4.5 billion8. The diversity of our tenant mix will increase, and our gross rental income streams will broaden with a larger base of reputable domestic companies and multinational corporations. As the land lease for business parks is 50 years compared to 40 years for retail malls, our land lease expiry for the reconstituted portfolio will be extended.
With 100% ownership of Rock Square, we have deepened our presence in the Tier 1 city of Guangzhou, while fully capturing the upside from ongoing asset enhancements. Rock Square has consistently achieved doubledigit positive rental reversions since we acquired our initial 51% interest in 2018. The mall continued to prove its resilience in 2020 with a rental reversion of 20.7%.
On 20 December 2020, we launched CapitaMall Nuohemule with 100% occupancy on the back of strong leasing interest — an achievement given that the Chinese economy is still recovering from the impact of COVID-19. Positioned as a destination lifestyle mall catering to families, working professionals and young adults, CapitaMall Nuohemule boasts a stellar line-up of fashion, F&B, Information Technology (IT) and electronics, and leisure & entertainment tenants. Experiential and smart retailing concepts, along with new-to-market brands and highly anticipated concept stores, are among its exciting and modern offerings. The mall also houses Inner Mongolia's first eco-friendly gardenstyle shopping space with 10,000 sq m of verdant greenery, Hohhot's first indoor sports park promoting healthy lifestyles, and a family zone featuring augmented reality gameplay and indoor go-carting.
ENHANCING FLEXIBILITY THROUGH PRUDENT CAPITAL AND RISK MANAGEMENT
A well-distributed debt maturity profile, along with diversified funding sources and the ability to secure funding at competitive rates have been key to enhancing our financial strength. In October 2020, we successfully issued our maiden S$100.0 million Subordinated Perpetual Securities at a yield of 3.375% per annum (p.a.) under the S$1.0 billion Multicurrency Debt Issuance Programme to diversify capital sources. In November 2020, we achieved overwhelming support for our EFR exercise, comprising a private placement and a preferential offering, which were oversubscribed by approximately 3 times and 1.9 times respectively. With the enlarged unit base, our trading liquidity was enhanced with average daily volume more than doubling to 5.1 million Units.
We maintained a strong balance sheet throughout the course of our portfolio reconstitution activities. Our gearing ratio of 31.8% as at 31 December 2020 was well-below the regulatory limit of 50.0%. Our debt maturity profile remains well distributed, with a healthy average term to maturity of about three years. About 80% of our total debt is on fixed interest rates, providing certainty of interest expenses. To mitigate the impact of foreign currency fluctuations, we fully hedged our undistributed income in FY 2020 into Singapore dollars.
STAYING COMMITTED TO POSITIVE CHANGE
As a CapitaLand-sponsored REIT, sustainability lies at the heart of what we do. As part of value creation, we strive to reduce our carbon footprint as well as increase energy and water efficiency levels across our properties. In 20209, we successfully lowered our carbon emission, energy and water intensities by 51.6%, 54.1% and 44.7% respectively, against the base year of 2008.
With heightened safety precautions in place, we continued to organise year-round activities to engage with our local communities and stakeholder groups. Personal health, safety and wellness, environmental consciousness, inclusivity and the need for a caring society were among the themes of these events.
2021 OUTLOOK
While consumer sentiments have largely been cautious on the back of employment concerns, China has been the first major economy to register positive growth following the COVID-19 outbreak, reporting a 2.3% growth in 2020. On 5 March 2021, China has set its annual economic growth target at over 6% for 2021, as rising consumption and rapid urbanisation provide the backdrop for accelerated growth in China's key industries. This is likely to set the stage for stronger business outlook and support new economy asset demand across China. On the retail front, whilst the Chinese government is promoting domestic consumption, the performance and continued recovery of the sector will be dependent on any resurgence of COVID-19 cases as well as larger market confidence and sentiment.
With an expanded mandate in place, CLCT is well-placed to benefit from China's economic push. Our longerterm goal would be to achieve a more balanced portfolio to ride China's consumption-driven, higher-valued, service-led economy.
We will also continue to create, unlock and extract value from our stable of properties at appropriate times. Our focus would be to drive resilience and growth, improve financial capacity and flexibility through prudent capital and risk management, and bolster operational excellence.
ACCOLADES AND ACKNOWLEDGEMENTS
We are honoured to be conferred a Platinum Award for our achievements as the Best Retail REIT (more than US$1 billion in market capitalisation) in the 7th Edition REITS Asia Pacific & The Best of The Breeds REITS Award 2020. The award celebrates "Building Resilience", a theme that has resonated especially well in a challenging year, as we continue to drive sustainable returns to our Unitholders.
The many significant outcomes that were accomplished in 2020 would not have been possible without our dedicated teams, supportive Unitholders, collaborative business partners and committed tenants. On behalf of the Board of Directors, we take this opportunity to express our sincere appreciation to the management and staff of CapitaLand China Trust for their resourcefulness and commitment to excellence in what would likely be remembered as one of the most challenging years in recent memory. We would also like to thank our tenants, shoppers and business partners for their faith and trust. Last but not least, we thank all Unitholders of CapitaLand China Trust, as it is your continued confidence that would lift us to greater heights.
Soh Kim Soon
Chairman
Tan Tze Wooi
Chief Executive Officer
12 March 2021
As at 31 December 2020.
The announcements regarding the divestment of CapitaMall Minzhongleyuan and CapitaMall Saihan were issued on 11 January 2021 and 1 February 2019 respectively. The divestment of CapitaMall Minzhongleyuan was completed in February 2021 while the divestment of CapitaMall Saihan is expected to be completed in 2Q 2021. With the completion of the divestment of CapitaMall Minzhongleyuan, CLCT has a portfolio of 12 retail malls.
Assuming completion of the five business parks.
By number of stores and excludes master-leased malls.
Press release dated 23 December 2020: CapitaLand records 10-fold surge in China gross merchandise value in 2020 amidst digitalisation push.
Includes CapitaMall Saihan, which is expected to be divested by 2Q 2021.
The five business parks that were acquired are as follows:

• 51% interest in Ascendas Xinsu Portfolio, Suzhou;
• 100% interest in Ascendas Innovation Towers, Xi'an;
• 80% interest in Ascendas Innovation Hub, Xi'an;
• 80% interest in Singapore-Hangzhou Science & Technology Park Phase I, Hangzhou;
• 80% interest in Singapore-Hangzhou Science & Technology Park Phase II, Hangzhou.

Based on circular dated 4 December 2020.
Data provided is for the period from 1 January to 31 October 2020. The full year data from 1 January to 31 December 2020 will be available on CLCT's website at https://www.clct.com.sg/sustainability.html from end April 2021.