THE MANAGER

Message to Unitholders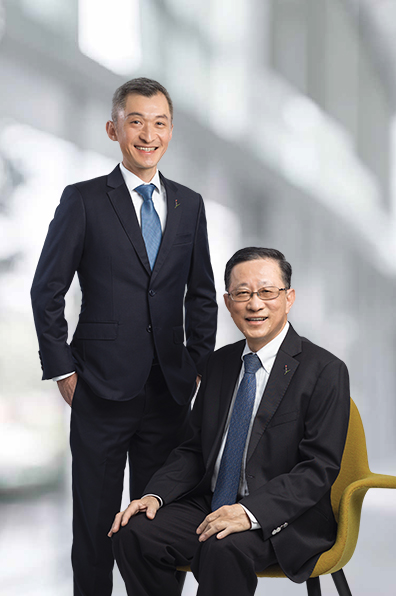 FY 2019 was a landmark year for CRCT. We grew from strength to strength, delivering a total Unitholder return of 27.7%1 as we remained steadfast in our strategy to improve portfolio quality and earnings. We ended the year in a stronger position, bringing our total assets to around S$3.8 billion and reaching a market capitalisation of around S$1.9 billion.
We completed our largest acquisition since IPO with the acquisition of three assets, CapitaMall Xuefu, CapitaMall Aidemengdun and CapitaMall Yuhuating, at an agreed property value of RMB2,960.0 million from our Sponsor, CapitaLand and its associated companies, and successfully raised our largest Equity Fund Raising (EFR) of S$279.4 million. The EFR was oversubscribed and received significant support from both long-term and new investors, which signals firm confidence in our strategic goals.
As we keep our eye on enhancing Unitholders' value through organic and inorganic growth, we have and will continue to Make an Impact as we cement our position as the first and the largest China-focused retail REIT listed on the Singapore Exchange.
CRCT achieved a gross revenue of S$238.2 million and net property income of S$165.4 million, an increase of 6.9% and 12.2% yearon- year respectively. Distribution per unit before Capital Distribution reached 9.80 cents or 2.1% higher year-on-year. Distribution per unit after Capital Distribution for FY 2019 was 9.90 Singapore cents, representing a distribution yield of 6.1%2. The improved performance was mainly due to higher organic growth, strong contribution from Rock Square as well as positive contribution from the acquisition of CapitaMall Xuefu, CapitaMall Aidemengdun and CapitaMall Yuhuating that was completed on 30 August 2019.
Despite the ongoing US-China trade tensions and muted global growth, China's consumer confidence has remained resilient. Due to active portfolio management, tenant sales and shopper traffic grew 14.4%3 and 15.2%3 respectively year-on-year in 2019. A total of 826 leases were signed or renewed, achieving an average rental reversion of 6.4%4. As at 31 December 2019, portfolio occupancy was 96.7%5 with a weighted average lease expiry of 2.4 years5,6. With the inclusion of the three new malls as well as the higher appraised values of the existing malls, CRCT's total asset increased substantially by 27.6% yearon- year to S$3.8 billion.
Staying Focused and Future-Proofing our Portfolio
Throughout the year, we maintained our focus to diversify and fortify our portfolio through strategic and timely acquisitions and divestments. Guided by these fundamentals, CRCT entered into a bundle deal in February 2019 to acquire Yuquan Mall for RMB808.3 million and to divest CapitaMall Saihan for an agreed property value of RMB460.0 million.
This transaction rejuvenated and directly added value to CRCT as we swapped an aging asset for a larger and more modern development in Hohhot's commercial hub. Yuquan Mall's strategic location offered a wider catchment population, direct connectivity to the upcoming metro line and extension of the land tenure by an additional eight years.
To minimise income disruption, the opening of Yuquan Mall will coincide with the divestment of CapitaMall Saihan by the end of 2020. We are confident that once operations have stabilised, the new mall's higher growth potential will place CRCT in an even stronger position to create new and exciting retail concepts and experiences that are synonymous to consumers' evolving lifestyles in Hohhot.
In March 2019, we announced the divestment of CRCT's 51.0% interest in CapitaMall Wuhu at an agreed property value of RMB210.0 million7, which provided yet another opportunity to unlock value and recycle the proceeds into higher-yielding assets.
In June 2019, we announced the accretive acquisition of CapitaMall Xuefu and CapitaMall Aidemengdun in Harbin and CapitaMall Yuhuating in Changsha for an agreed property value of RMB2,960.0 million. In line with our portfolio positioning, the acquisition increased CRCT's portfolio size by 18.6% and gross floor area by 30.7%8.
All the three malls are strategically located with excellent connectivity and are supported by a strong captive local populace. Positioned as one-stop shopping destinations for local communities, the malls offer a wide range of retail and dining options. These new retail assets bolstered the resilient qualities of our portfolio, whilst providing opportunities for potential asset enhancements. Unitholders showed strong support for the acquisition, with 99.8% of the Unitholders voting in favour of this deal.
On February 2020, CRCT entered into an agreement to divest CapitaMall Erqi at an agreed property value of RMB777.0 million, 20.5% above independent valuation. CapitaMall Erqi is a master-leased mall with limited growth prospects. Its divestment is in line with our strategy to unlock value from non-core assets, while reducing CRCT's exposure to singletenant assets. Proceeds from the divestment will further enable us to enhance CRCT's financial flexibility to pursue accretive growth opportunities. The divestment is expected to be completed by 3Q 2020.
Progressing Ahead with Disciplined Capital Management
As at end December 2019, CRCT's gearing was at 36.7%, with wellstaggered debt maturity of 2.84 years. CRCT's all-in average cost of borrowings was 2.98% and about 80.0% of CRCT's total term loans was on fixed interest rates, providing certainty of interest expenses. To mitigate the impact of foreign currency fluctuations, CRCT hedged approximately 62.0% of its undistributed income into Singapore dollars. We will continue to enhance CRCT's financial flexibility by diversifying our sources of funding, funding currencies and length of maturity as well as securing funding at competitive rates when the opportunity arises.
Enhancing Organic Performances of our Malls
At the operational level, we are constantly refreshing our malls and curating shopper experiences to keep pace with China's dynamic retail landscape and the evolving lifestyles and spending patterns of Chinese consumers. Supported by specialised teams of local, experienced asset managers with strong track records of active management, our ongoing efforts include using digital initiatives and targeted sales promotions to drive repeat spending, engaging in proactive leasing strategies by collaborating with new-to-market brands and retailers, and tapping on tenant remixing to refresh offerings and enhance our malls' appeal.
Riding on the growth of omni-channel retail trends, we stepped up our efforts to integrate online-offline shopping by attracting more popular online retailers to establish physical presence at our malls and draw in crowds. For instance, CapitaMall Xinnan partnered with popular online fashion brands looking to provide a holistic omni-channel retail experience to complement their online offerings. In CapitaMall Aidemengdun, we partnered with a tenant to pilot smart interactive display to improve touchpoints and enhance customer experiences.
Recognising that rising middle-income family spending is a resilient market, we introduced more exciting kidsrelated spaces and attractions to capture family time and spending. We converted Level 3 of CapitaMall Xinnan to incorporate kids-related themes and attract families with young children. At CapitaMall Xuefu, we introduced popular fashion and food and beverage brands to attract millennials from the cluster of universities within the catchment area. We also organised creative marketing events such as campus recruitments and seasonal youth activities to drive footfall and encourage spending.
We rejuvenated our assets through various innovative asset enhancement initiatives to excite our consumers while increasing space productivity at our malls. We embarked on an AEI programme at CapitaMall Grand Canyon to refresh Levels 4 and 5 by introducing popular Food & Beverage (F&B) concepts, new cuisines and themed restaurants. These efforts translated into stronger tenant sales, footfall as well as income contribution from the new zone.
Over at Rock Square, the mall continued to deliver strong growth momentum through proactive positioning and the introduction of a diverse tenant mix ranging from new-to-market, top international and homegrown brands to crowd-pulling F&B outlets. With our continuous effort to upgrade the mall's offering, Rock Square achieved successive years of double-digit reversion.
Awards and Recognition
In recognition for our pursuit for high standards of corporate governance, we have been awarded:
Shareholder Communications Excellence Award (Runner-up), under the REITs and Business Trusts category at the SIAS 20th Investors' Choice Awards 2019.
Gold for Retail REITs in Singapore with more than US$1 billion in market capitalisation at the 6th Asia Pacific Best of the Breeds REITs Awards 2019.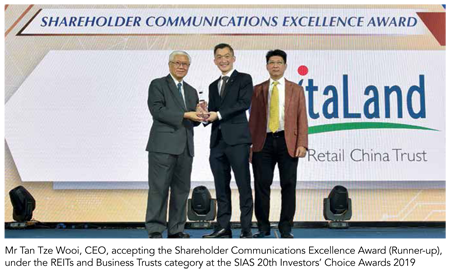 CRCT's rankings on the Singapore Governance and Transparency Index (SGTI) and Governance Index for Trusts (GIFT) have also improved substantially in 2019. As testament to our commitment to corporate governance, CRCT was selected by SGX to be included in the Fast Track Programme list. The scheme recognises listed companies with good governance standards and compliance practices, and accords prioritised clearance for selected corporate-action submissions.
Capturing Opportunities and Driving Growth
While China has achieved its full year GDP forecast for 2019, growth expectations moving forward are likely to be tempered, due in part to headwinds from challenges in global trade, structural changes to China's growth drivers and recent developments surrounding the COVID-19. With the latter situation still evolving, we remain vigilant over potential developments that may arise, and will work in line with the relevant local government to ensure the wellbeing of our tenants, shoppers and employees are taken care of, as well as put in place measures to minimise impact to our operations. Over the longer-term, we maintain positive on the China market, and believe that our strong financial position will enable us to overcome this temporary challenge.
We are committed to review our portfolio composition and unlock value by divesting non-core assets and recycling proceeds into higher quality ones. We will continue to seek value-enhancing acquisitions to strengthen our portfolio attributes, maintain quality exposure in first- and second-tier cities within CapitaLand's core city clusters, and scale up the proportion of multi-tenanted malls within the portfolio.
To ensure that we remain as the mall of choice, we will continue to refresh mall offerings to capture the mind share of our consumers. We will also work closely with tenants to bring more exciting concepts to our malls, and connect with consumers through new marketing efforts that appeal to their daily habits and lifestyles.
Note of Appreciation
Our success in 2019 would not have been possible without the support and contributions of many. We take this opportunity to thank Mr Lee Chee Koon, who stepped down as Non-Executive Non-Independent Director and Chairman of the Executive Committee on 16 August 2019, for his invaluable contribution and guidance. We would also like to welcome Mr Lucas Ignatius Loh Jen Yuh, who was appointed Non-Executive Non- Independent Director and Chairman of the Executive Committee on 16 August 2019.
We would like to express our sincere gratitude to our fellow board members for their insights, diverse perspectives and active participation in Board discussions. We would also like to thank the CRCT team for their commitment to excellence and enthusiasm, as well as tenants, shoppers and partners for the trust that they have placed in us. Finally, our heartfelt appreciation goes to our Unitholders and the wider investment community, for your unwavering support and confidence in CRCT.
Soh Kim Soon
Chairman
Tan Tze Wooi
Chief Executive Officer
20 February 2020
Based on capital appreciation from unit price of S$1.36 on 31 December 2018 to S$1.61 on 31 December 2019 and assuming dividends were reinvested.
Based on FY 2019 distribution per unit of 9.90 cents and the unit closing price of S$1.61 on 31 December 2019.
Tenants' Sales (excluding Department Stores and Supermarket) and Shopper Traffic are based on CRCT's respective holding period of its multi-tenanted assets (namely CapitaMall Xizhimen, CapitaMall Wangjing, CapitaMall Grand Canyon, CapitaMall Xinnan, CapitaMall Qibao, CapitaMall Saihan, CapitaMall Minzhongleyuan, Rock Square (100% basis), CapitaMall Xuefu, CapitaMall Aidemengdun and CapitaMall Yuhuating). Excluded tenant sales and shopper traffic from CapitaMall Wuhu as the mall has been divested.
Excludes introduction of new concepts and mini-anchor. If included, the total portfolio rental reversion rate would be 4.7%.
Excludes CapitaMall Erqi as the announcement for the divestment was issued on 7 February 2020.
By Gross Rental Income. Excludes CapitaMall Saihan which will be divested by the end of 2020.
Based on 100% interest.
Based on 100% interest in all of CRCT's properties as at 31 March 2019, as per announcement dated 11 June 2019.