Sustainability Commitment
As a CapitaLand-sponsored REIT, CLCT is managed by wholly owned subsidiaries of CapitaLand which include the Manager as well as Property Managers that oversees the daily property operations for the portfolio of malls. The Manager and Property Managers are responsible for the property operations across CLCT's portfolio, and abide by CapitaLand sustainability framework, policies, guidelines, as well as ethics and code of business conduct.
CLCT's sustainability strategy is aligned with CapitaLand's (CL group) credo of 'Building People. Building Communities'. CL group is committed to improving the economic and social well-being of its stakeholders through the execution of development projects and management of its operations. In a rapidly changing business landscape, it actively embraces innovation to ensure commercial viability without compromising the environment for future generations.
CapitaLand upholds high standards of corporate governance and transparency to safeguard shareholders' interests. It has in place an adequate and effective Enterprise Risk Management Framework to enhance business resilience and agility. CL group's proactive approach towards environmental, health and safety (EHS) management, which incorporates universal design into developments, ensures that its properties are sustainable and future-proof. Policies and guidelines are put in place to ensure the efficient use of energy, water and other resources.
CL group's integrated human capital strategy aims to recruit, develop and motivate employees to drive growth. Community development is an important component of its commitment to sustainability. It focuses on providing support to enhance the lives of underprivileged children and vulnerable elderly, through corporate philanthropy and employee volunteerism.
Our Sponsor, CapitaLand, was one of the first companies in Singapore to voluntarily publish an annual Global Sustainability Report and externally assure the entire report. Benchmarking against an international standard and framework that is externally validated helps CapitaLand overcome the challenges in sustainability reporting that may arise from its diversified asset types and geographical presence. CapitaLand is also a signatory to the United Nations (UN) Global Compact and the annual Global Sustainability Report serves as its Communication on Progress, which will be made available at www.unglobalcompact.org when published.
For its efforts, CapitaLand is listed in The Sustainability Yearbook, Global 100 Most Sustainable Corporations Index, Dow Jones Sustainability World Index and Asia Pacific Index, Global Real Estate Sustainability Benchmark (Global Sector Leader, Diversified- Listed), FTSE4Good Index Series, MSCI Global Sustainability Indexes, Euronext VigeoEiris Indices World 120 and STOXX® Global ESG Leaders Indices.
CapitaLand Global Sustainability Report 2019 will be published by 31 May 2020 and will continue to be prepared in accordance with the Global Reporting Initiative (GRI) Standards: Core option. CL group will also continue to apply the Guiding Principles of the International Integrated Reporting Framework and ISO 26000:2010 Guidance on Social Responsibility and reference the UN Sustainable Development Goals (SDG) and the Taskforce on Climate Related Financial Disclosure (TCFD). The report will cover CL group's global portfolio and employees, including listed REITs, CapitaLand Mall Trust, CapitaLand Commercial Trust, Ascott Residence Trust, CapitaLand China Trust and CapitaLand Malaysia Mall Trust, unless otherwise indicated. Lastly, the report will be externally assured to AA1000 Assurance Standard.
As the merger between CapitaLand and Ascendas-Singbridge was completed on 1 July 2019, this report will also include data from 1 July 2019 onwards, pertaining to CapitaLand's expanded business parks portfolio and staff strength.
To find out more, please click on the boxes.
Board Statement
CLCT is committed to sustainability and incorporates the key principles of Environmental, Social and Governance (ESG) in setting our business strategies and operations.
The Board sets CLCT's risk appetite, which determines the nature and extent of material risks that CLCT is willing to take to achieve our strategic and business objectives. The risk appetite incorporates ESG factors such as fraud, corruption and bribery, environment, health and safety.
The Board also approves the executive compensation framework based on the principle of linking pay to performance. CLCT's business plans are translated to both quantitative and qualitative performance targets, including sustainable corporate practices and are cascaded throughout the organisation.
Top Management Commitment and Staff Involvement
CapitaLand's sustainability management comes under the purview of its Sustainability Council.
In 2019, the CapitaLand Sustainability Council was re-constituted to include two independent board members and four CapitaLand Executive Committee (EXCO) members. Chaired by an independent board member, the Council is supported by the Sustainability Department as secretariat and various work teams to ensure continued progress and improvement in the areas of ESG. The work teams comprise representatives from all business units. CapitaLand Board of Directors is updated regularly through the Risk Committee and Audit Committee on matters relating to sustainability risks and business malpractice incidents. The Board is also updated on the sustainability management performance of CL group, key material issues identified by stakeholders and the planned follow-up measures.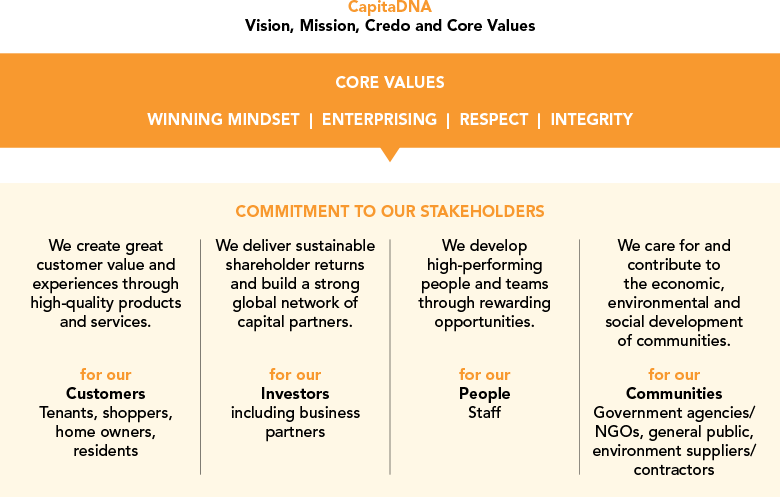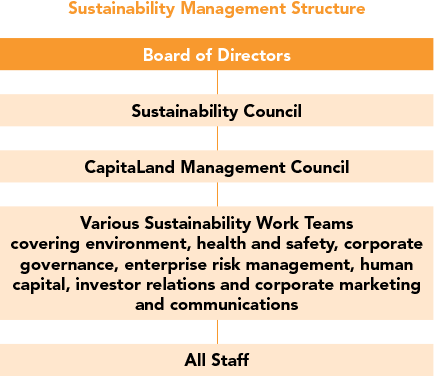 Materiality
CL group has a regular review, assessment and feedback process in relation to ESG topics. Key to this is an annual Group-wide Risk and Control Self-Assessment exercise which entails the identification, assessment and documentation of material risks and corresponding internal controls. These material risks include fraud and corruption, environmental (e.g. climate change), health and safety, and human capital risks which are ESG-relevant.
CapitaLand identified and reviewed material issues that are most relevant and significant to CL group and its stakeholders. These are prioritised based on the likelihood and potential impact of issues affecting business continuity and development. For external stakeholders, priority is given to issues important to the society and applicable to CL group. For more information on stakeholder engagement, please refer to the Social and Relationship Capital, Human Capital and Environmental Capital chapters in the upcoming CapitaLand Global Sustainability Report 2019.
Prioritisation of ESG Material Issues

* This includes customer health and safety.
Creating Value and Alignment to United Nations Sustainable Development Goals (UN SDGS1)
The Guiding Principles of the International Integrated Reporting Council (IIRC) Framework were referenced in this report, and the material ESG issues are grouped into six capitals - Environmental, Manufactured, Human, Social and Relationship, Organisational and Financial. This is also mapped against some of CL group's key efforts and programmes in relation to the 10 key UN SDGs material to real estate. For more information, please refer to CapitaLand Global Sustainability Report 2019 which will be published by 31 May 2020.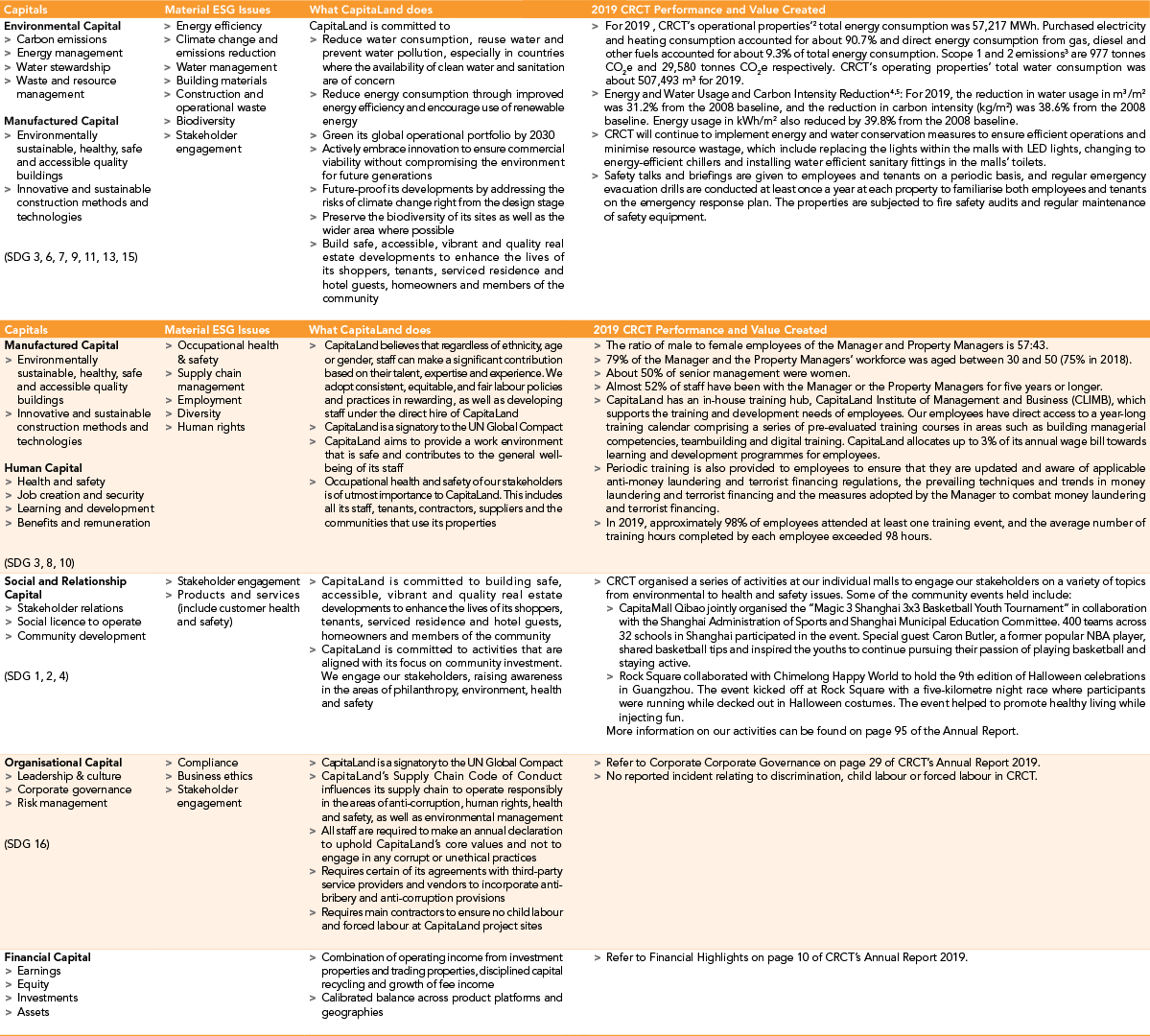 The UN SDGs call on companies everywhere to advance sustainable development through the investments they make, the solutions they develop, and the business practices they adopt. In doing so, the goals encourage companies to reduce their negative impacts while enhancing their positive contribution to the sustainable development agenda
Computation of total consumption considers only managed properties and excludes master-leased properties.
This is computed mostly from purchased electricity consumption under Scope 2, and some direct energy consumption under Scope 1 as defined by the Greenhouse Gas (GHG) Protocol (operational control approach) and using individual country CO2 emission factors retrieved from the IEA Statistics – CO2 emission factors from fuel combustion 2019 edition.
Computation of energy, water and carbon intensities excludes new properties which have been in operation for less than 12 months, master-leased properties and properties undergoing asset enhancement initiatives (AEI).
Data excludes Rock Square.
Stakeholder Engagement
Stakeholders are groups that CLCT's business has a significant impact on, and those with a vested interest in CLCT operations. Key stakeholders include employees, customers, business associates, builders and suppliers, as well as the investment and local community. Other groups include regulators and key government agencies, non-governmental organisations (NGOs), representatives of the capital market and the media. They are mapped into groups based on their impact on the Trust.
Through the various engagement channels, CLCT seeks to understand its stakeholders' views, communicate effectively with them and respond to their concerns.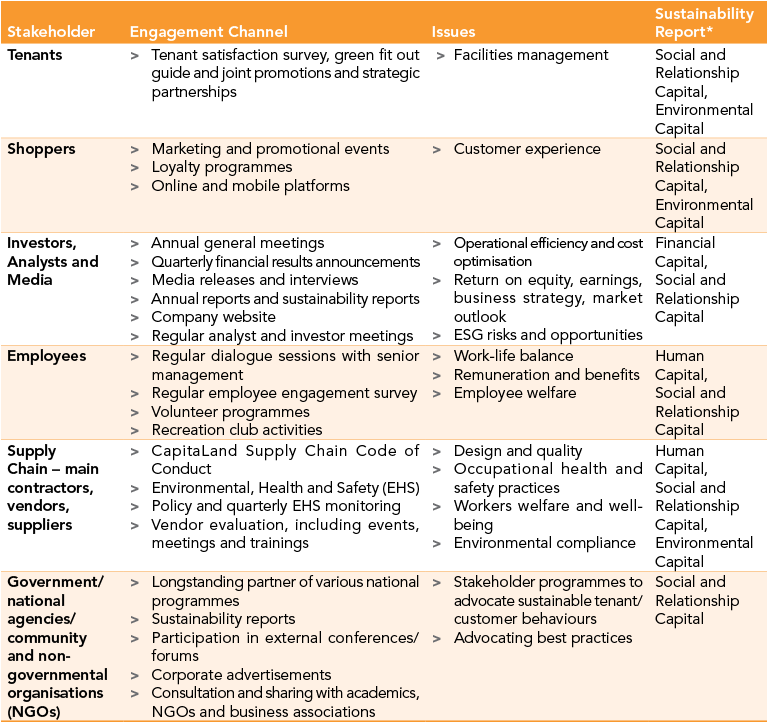 * For more information on key stakeholders' issues of interest, please refer to CapitaLand Global Sustainability Report 2019 that will be published by 31 May 2020.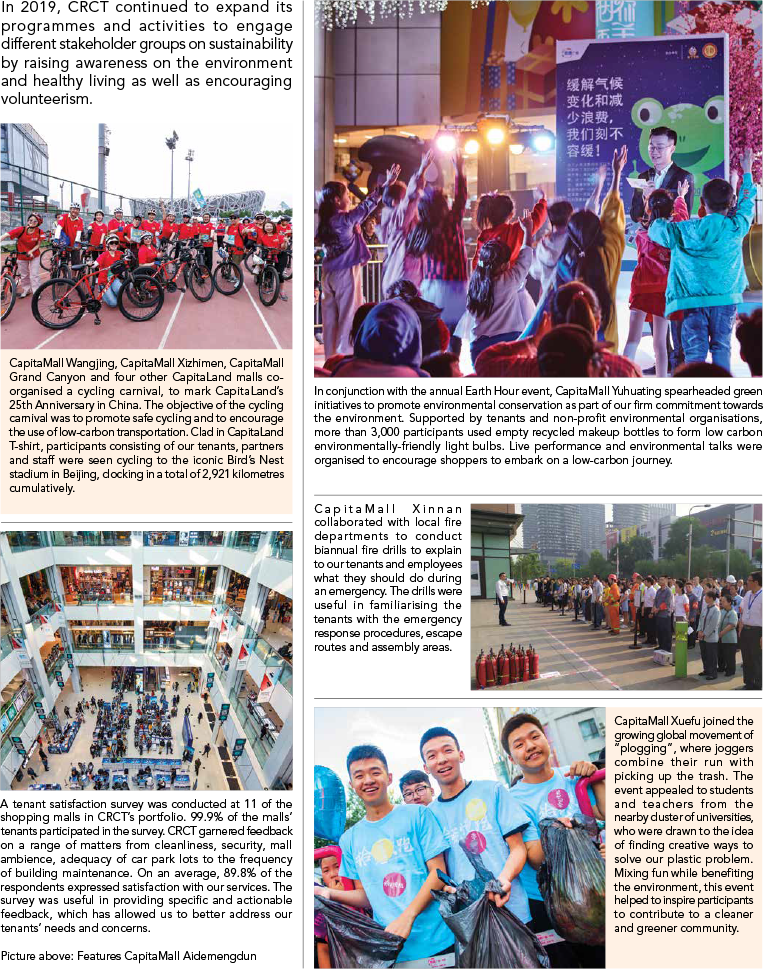 Community Development Investment And Value
Community development is a key focus of CapitaLand's sustainability strategy. This has generated strong social capital and goodwill for the Group in the communities it operates in. It supports various stakeholder engagement activities which include environmental sustainability, health and safety, social integration as well as helping underprivileged children.
CLCT is committed to corporate philanthropy and takes pride in supporting employee volunteerism initiatives that contribute to the well-being of the communities served by its malls. CLCT malls also organised a wide variety of community events in support of various causes.
In September 2017, staff from CLCT malls took part in "My Schoolbag" – CapitaLand's key annual corporate social responsibility programme, which took place for the eighth consecutive year in China. Staff volunteers helped to distribute new schoolbags and stationery to about 18,000 first grade pupils from 220 schools, including 22 CapitaLand Hope Schools. They also visited selected schools to help refurbish ageing facilities and interact with the children.
During the year-end festivities celebrations, CLCT malls organised Christmas charity bazaars whereby proceeds from the sale of festive items such as toys, books and handicrafts were donated to underprivileged children. To raise funds for CapitaLand Hope Schools, CapitaMall Qibao also held a charity carnival which roped in kindergarten children and their families to manage fun fair stalls. These heartwarming events seek to bring hope to the less fortunate while inculcating kindness in the next generation.
A registered charity in Singapore, the philanthropic arm of CapitaLand, CapitaLand Hope Foundation (CHF) invests in the fundamental needs of education, healthcare and shelter of underprivileged children to relieve them of hardship and help them to eventually break the poverty cycle. Every year, the Group allocates up to 0.5% of its net profit to CHF and supports its day-to-day operations with staff from the various functional departments within the company.
CLCT is committed to providing a vibrant and accessible environment that offers convenience for the community that it serves. CLCT's social integration criteria include ensuring accessibility for people of different age groups and varying mobility, enhancing connectivity to public transportation and roads. Most of our malls are fitted with accessible toilets to cater to people with disabilities, while accessible parking lots are available at CapitaMall Wangjing, CapitaMall Grand Canyon and CapitaMall Xinnan. There are also dedicated nursing rooms in some of CLCT's malls, to meet the needs of shoppers with young children.
The Group is a strong advocate of volunteerism and was one of the first companies to formalise three days of Volunteer Service Leave (VSL) for its staff.
Environment, Health And Safety (EHS)
The Group is committed to protecting the environment and upholding the occupational health and safety of its employees and ensuring a safe and healthy environment for the users of its properties. The CapitaLand EHS Management System is externally audited to achieve the International Organization for Standardization (ISO) 14001 and Occupational Health and Safety Assessment Series (OHSAS) 18001 certification across 15 countries. CEOs are accountable for the EHS performance of their strategic business units (SBUs). All staff assume personal responsibility towards occupational health and safety (OHS). They are also encouraged to report all OHSrelated incidents, including non-compliances and nonconformities to the relevant business unit management representatives. The CapitaLand EHS policy can be found at https://www.capitaland.com/international/en/about-capitaland/sustainability.html. The Group has incorporated EHS key performance indicators linked to the remuneration of all staff, as well as top management.
The Group has incorporated EHS key performance indicators linked to the remuneration of all staff, as well as top management. These include:
Energy and Water Usage Reduction2: In 2017, the reduction in energy usage in CLCT malls in KWh/m2/month was 36.8% and the reduction in water usage in m3/m2/month was 25.5% from the 2008 baseline, and the reduction in carbon intensity (kg/m2/month) was 45.7% from the 2008 baseline. CapitaLand will continue to implement energy and water conservation measures to ensure efficient operations and minimise resource wastage.
In 2017, CLCT's operational properties' total energy consumption was 46,725 MWh. Indirect energy consumption accounted for about 89.5% and direct energy consumption from gas, diesel and other fuels accounted for about 10.5% of total energy consumption. Scope 1 and 2 emissions are 927 tonnes CO2e and 25,124 tonnes CO2e respectively3. The REIT's operating properties' total water consumption was about 360,674 m3 in 2017.
The Manager has been progressively embarking on asset enhancements initiatives across the portfolio, to ensure that CLCT's properties stay relevant. Some of the enhancements include the upgrading of two lithium-bromide air-conditioning units to electric chillers at CapitaMall Qibao since 2015 to reduce energy consumption. CLCT continues to implement various energy conservation measures to reduce consumption, which include progressively replacing their lights within the malls with LED lights.
To further aid efficient water management, CLCT's properties are progressively installed with waterefficient sanitary fittings in the mall toilets to reduce water usage. The Group will continue to implement water conservation measures to ensure efficient operations and minimise resource wastage.
CLCT adheres to the Group's commitment of ensuring the health and safety of its stakeholders at all times. Emergency response procedures are in place for potential OHS risks. Periodic briefings and annual evacuation drills are conducted to ensure that tenants are familiar with the response plan. Security of the malls are a top priority and the Property Manager ensures strict accordance in its processes. Safety talks and briefings are given to employees and tenants on a periodic basis, and regular emergency evacuation drills are conducted at least once a year at each property to familiarise both employees and tenants on the emergency response plan. The properties are subject to fire safety audits and regular maintenance of safety equipment. The Group collaborated with local fire departments, government agencies and associations to organise fire drills at its malls to raise safety awareness among its tenants and shoppers. These included live fire extinguishing session, involvement of local fire departments, simulation of fire and evacuation, which were well-received by the local authorities.
Stakeholder Engagement: All eight of CLCT's multitenanted malls participated in the annual Earth Hour initiative in March 2017 which saw the switching off of facade and non-essential lights of participating malls. In addition, CLCT malls organised a series of events relating to the global campaign. At CapitaMall Minzhongleyuan, shoppers and their children participated in a workshop to design T-shirts that spread messages about combating climate change.
In 2017, over 50 CapitaLand malls across the Group's portfolio organised a series of cycling-related activities to promote the adoption of carbon-lite modes of transportation, by encouraging shoppers in participating malls to cycle a total of 40,075 kilometres, equivalent to the Earth's equatorial circumference. At CLCT, staff from CapitaMall Minzhongleyuan, CapitaMall Xinnan and CapitaMall Saihan also took part in mass cycling activities that promoted cycling as a form of green transport. In addition, CapitaMall Xinnan hosted a photography exhibition highlighting the plight of wildlife affected by global warming, and presented an unplugged music performance featuring an acapella group.
Most of CLCT's properties are strategically located near local transportation hubs, with convenient access to metro stations, railway stations and bus stops. Electric vehicle charging stations are installed at CapitaMall Wangjing and CapitaMall Grand Canyon, bringing greater convenience to the growing pool of electric vehicle owners who are committed in using a greener mode of transportation.
The Group continues to participate in CDP (Carbon Disclosure Project) and retained a "B" score. The Group's footprint is calculated in accordance with the Greenhouse Gas Protocol, developed by the World Resources Institute and World Business Council for Sustainable Development, which sets the global standard on how to measure, manage and report greenhouse gas emissions.
Computation of energy, water and carbon intensities excludes new properties which have been in operation for less than 12 months, master-leased properties and properties undergoing asset enhancement initiatives (AEI). Computation of indicators considers only properties managed by the Group.
This is computed mostly from purchased electricity consumption under Scope 2, and some direct energy consumption under Scope 1 as defined by the Greenhouse Gas (GHG) Protocol (operational control approach) and using individual country CO2 emission factors retrieved from the IEA Statistics – CO2 emission factors from fuel combustion 2017 edition.
BACK TO PREVIOUS SECTIONS