THE MANAGER

In Conversation with CEO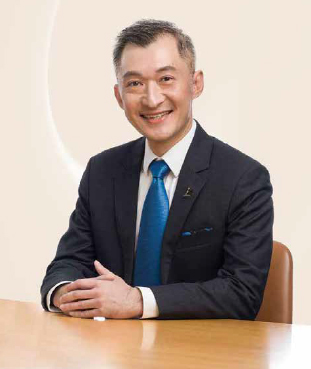 1. WHAT ARE YOUR THOUGHTS MOVING INTO 2023?
Over the past few years, we have focused on strategically diversifying our portfolio while strengthening our business fundamentals to enhance income resilience. We actively executed asset enhancement initiatives (AEIs) to optimise our portfolio, while seizing market opportunities for portfolio reconstitution. As China reopens, CLCT is well-placed to leverage the improving business conditions to grow organically and inorganically.
We maintain a keen focus on executing our strategies, proactively shaping our portfolio to align with China's pro-growth policies to boost domestic consumption and investment. At the same time, we remain agile to capture consumption trends, and continuously attract quality tenants from the essential and high-growth sectors to build a resilient, sector-diversified portfolio that is capable of riding cyclical changes.
2. HOW WILL THE RISING INTEREST RATE OUTLOOK AFFECT CLCT?
CLCT is in a strategic position to benefit from China's accommodative monetary policies and projected owering of onshore lending rates. By adhering to a disciplined and prudent set of capital management principles, we maintained a proportion of onshore borrowings, achieved stability through fixed rates and ensured a well-staggered debt maturity profile. These measures have enabled us to secure a strong balance sheet, while mitigating the financial impact of a rising interest rate environment. This further augments our track record and provides the financial flexibility for us to seize market opportunities in the road ahead.
3. WHAT HAS BEEN CLCT'S ESG FOCUS AND SUSTAINABILITY PROGRESS THIS YEAR?
Sustainability is a cornerstone of our growth journey. In 2022, we made good progress in our sustainability efforts on the asset, operational and financing fronts. We obtained green certification for CapitaMall Wangjing and Rock Square and implemented green leasing across our retail and business park portfolio in 4Q 2022. We also initiated the installation of solar panels on the roof of Kunshan Bacheng Logistics Park which is expected to generate 92 megawatt hours of energy annually, translating to a reduction of 9,000 kg in carbon emissions per year. As the leading S-REIT to pioneer sustainability-linked loans for a China portfolio, we have secured an additional S$300 million of such loans during the financial year.
We have also made strides from the Social and Governance perspective. Our dedication to staff empowerment and sustainability saw full participation in ESG-related training by our employees, while our commitment to embrace diversity resulted in an increase of female Board representation from 11.1% last year to 25.0% in 2022. New annual green certification targets have also been established, with the remuneration of key management and CLCT employees linked to these goals.
More details on our efforts towards environment, social and governance can be found in our Integrated Sustainability Report 2022 that will be released in mid-April 2023 at https://investor.clct.com.sg/isr.html.
4. WHAT IS CLCT'S GROWTH STRATEGY IN THE ROAD AHEAD?
We are the proxy for growth in China's future economy across multiple sectors and market cycles. As we fortify our position as Singapore's largest China-focused REIT, we are committed to ride the country's development for the long run by increasing our exposure in asset classes associated with consumption-driven, higher-value, service-led economy sectors.
China's COVID-19 situation has peaked and passed. With the worst behind us, we are taking proactive steps to leverage the country's reopening and pro-growth stance. Domestic consumption and innovation are projected to be the focal points of the economy. Our near-term objectives centre on creating, unlocking and extracting value by bolstering the diversification and resilience of our revenue streams through well-timed acquisitions in the business park and logistics park asset classes.
These are sectors that China seeks to promote domestically with supportive policies that will drive leasing demand. We will continue to expand our footprint into target growth cities, particularly across strategic Tier 1 and Tier 2 cities, and seize acquisition opportunities by actively sourcing from the Sponsor's pipeline and third-party vendors to create higher quality income streams.
To optimise our portfolio, we will divest non-core and matured assets at the optimal stages of their lifecycles to unlock value, recycle the proceeds towards new growth opportunities and enhance Unitholders' returns. Since 2017, we have monetised five assets (of which four are IPO assets) and deployed the capital towards acquiring our five business parks and four logistics properties. Meanwhile, we will also sharpen our focus to continuously extract value and propel organic growth through operational excellence, well-timed AEIs and unit reconfigurations. Against the backdrop of China's reopening in 2023, the return of shopper footfall and a pickup in consumer spending are expected to ignite a positive trajectory for our retail portfolio in the coming year.
In the longer term, we will introduce commercial/ integrated properties to our portfolio, eventually achieving a balanced portfolio mix of 30% retail, 30% new economy assets and 40% commercial/ integrated developments to better represent our position as a proxy to China's real estate market opportunities and growth.
Tan Tze Wooi
Chief Executive Officer