THE MANAGER

Growth Strategies
CLCT is well-positioned to capture the emerging opportunities in the broader real estate market by strategically aligning with China's economic policies that focuses on achieving a consumption-driven, higher-value and service-led economy. As the largest China focused S-REIT with a diversified portfolio of retail, business park and logistics park assets across 12 prominent top tier cities, CLCT will exercise a disciplined approach in our portfolio reconstitution to achieve a well-balanced and resilient portfolio that is futureready.
Sustainable growth is achieved through our integrated strategy to Create, Unlock and Extract value across our portfolio. Underpinned by prudent capital and risk management, we continue our strong track record of enhancing portfolio value and delivering long-term income growth and returns to Unitholders.
Strategic advantages and growth potential are further realised by leveraging CapitaLand Group's extensive pipeline of high-quality assets. Operational excellence is reinforced through CapitaLand Group's wide-ranging real estate platform, strong local network and professional property management capabilities.
Create Value
Objective: Achieve inorganic growth through well-timed acquisitions
Invest in a diversified portfolio of incomeproducing real estate across asset classes used primarily for retail, office and industrial purposes (including business parks, logistics facilities, data centres and integrated developments) to bring attractive yields and/ or increase capital appreciation potential
Strengthen portfolio resilience and diversification by investing in assets with high growth potential and synergistic value to deliver stable and sustainable distributions
Aim to create a portfolio mix of 30% Retail, 30% New Economy and 40% Commercial/ Integrated Developments by 2026
Seize opportunities by actively sourcing for opportunities from Sponsor's pipeline and/or third-party vendors
Unlock Value
Objective: Recycle capital through divestment of non-core, matured assets to enhance returns
Review asset performance and unlock value at the optimal stage of asset lifecycle to increase long-term returns for Unitholders
Extract Value
1. Proactive Asset Management
Objective: Drive organic growth through customercentric initiatives
Achieve optimal tenant mix
Implement proactive leasing strategies to achieve a healthy occupancy rate
Deepen engagement with tenants by offering customised initiatives and programmes to build strong relationships

Retail - Leverage on CapitaLand Group's established omnichannel platforms, innovative marketing outreach and loyalty programmes such as CapitaStar to expand customer base and capture repeat spending
Business Park and Logistics Park - Enhance tenant's experience by providing quality property customer services that is supported by CapitaLand Group's best-in-class property management toolkit

Enhance operational efficiency and optimise operating costs
2. Innovative Asset Enhancement
Objective: Boost competitiveness through high quality malls, business parks and logistics parks
Achieve higher returns through transformative asset enhancement initiatives
Rejuvenate spatial usage and productivity to increase leasable area
Refresh amenities and facilities to increase stickiness of consumers and tenants to our properties
Enhance sustainability efforts and energyefficient initiatives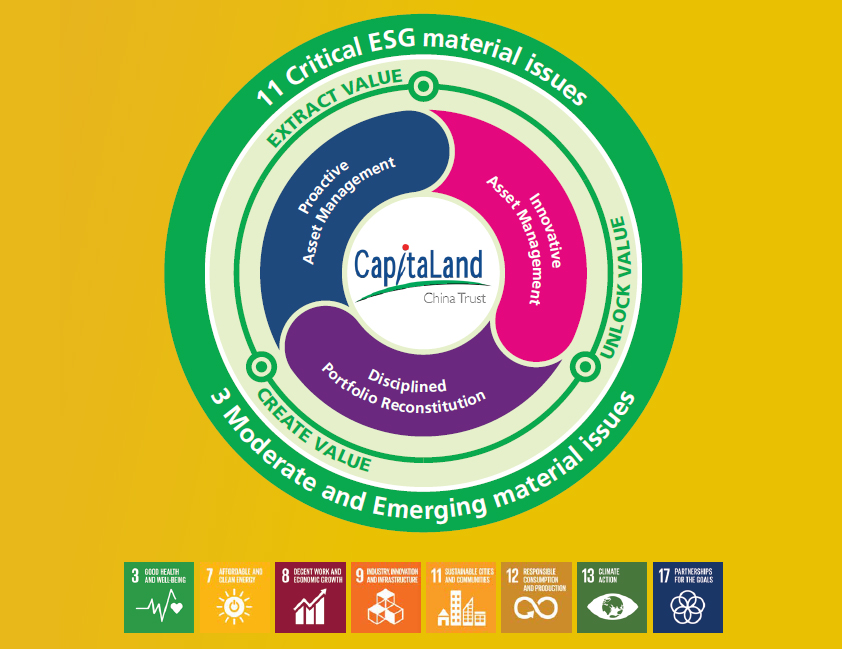 CAPITALS
ENVIRONMENTAL CAPITAL
Carbon Emissions
Energy Management
Water Stewardship
Waste and Resource Management
MANUFACTURED CAPITAL
Environmentally Sustainable, Healthy, Safe and Accessible Quality Buildings
Innovative and Sustainable Construction
Methods and Technologies
HUMAN CAPITAL
Health and Safety
Job Creation and Security
Learning and Development
Benefits and Remuneration
SOCIAL & RELATIONSHIP CAPITAL
Stakeholder Relations
Social License to Operate
Community Development
Cross-Sectoral Partnership
ORGANISATIONAL CAPITAL
Leadership and Culture
Corporate Governance
Risk Management
FINANCIAL CAPITAL
Sustainable Financing
Earnings
Equity
Investments
Assets