THE MANAGER

Message to Unitholders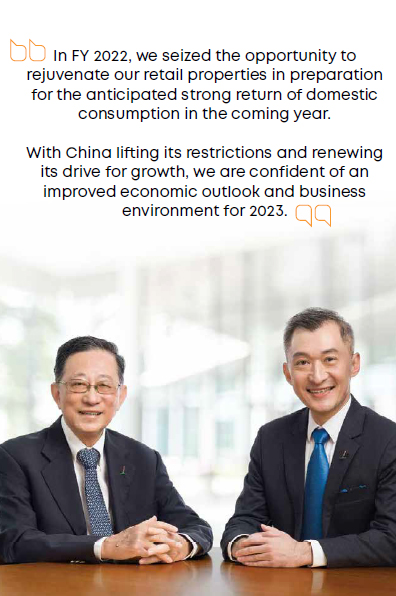 In FY 2022, CapitaLand China Trust (CLCT) delivered resilient results even as China's stringent pandemic controls and restrictions weighed on a challenging operating environment for most of the year. Throughout, our geographical and asset diverse portfolio stood us in good stead, with the impact on one city cushioned by operating conditions elsewhere. We seized the opportunity to rejuvenate our retail properties in preparation for the anticipated strong return of domestic consumption in the coming year.
At the same time, our drive over the last two years to fortify our foundations and shape a resilient, future-ready portfolio began to bear fruit. The cornerstone of our reconstitution strategy involved a transformational pivot to business park and logistics park asset classes to diversify our portfolio, while retaining our commitment to strengthen our retail assets. Today, our portfolio comprises 11 retail malls, five business parks and four logistics parks across 12 cities in China. Together, they house a high-quality tenant base with five of our top 10 tenants in new economy sectors and the majority hailing from essential and high-growth industries. Beyond providing income resilience amidst a volatile environment, our diversified portfolio enables us to tap different market cycles and capture the upside from China's reopening.
A STEADY PERFORMANCE
In FY 2022, gross revenue rose 1.4% year-on-year to reach S$383.2 million, while net property income (NPI) recorded a 1.5% increase to S$254.2 million despite the challenging COVID-19 environment, particularly in 2H 2022. Improvements in gross revenue and NPI were boosted by full-year contributions from our business and logistics parks, validating our strategy of diversifying our asset classes. The increase, however, was offset by a weaker retail business landscape, where we supported our retail tenants with higher rental relief.
CLCT closed the year with a portfolio occupancy of 95.4%1, 91.4% and 96.4% for our retail, business park and logistics park assets respectively. Due to the tight restrictions and lockdowns, FY 2022 retail traffic decreased 20.1% year-on-year1, while tenant sales declined 12.7%1 against the previous year.
Emerging from COVID-19, our portfolio has recorded positive rental reversion for the first time across all asset classes. Rental reversion for our retail segment came in at +2.7%1. This achievement was buoyed by the completion of CapitaMall Wangjing's AEI during the financial year. Meanwhile, our new economy assets registered a +6.4% rental reversion with broad-based higher rent per square metre (sq m) across the key sectors of electronics, engineering, information and communications technology, professional services and biomedical sciences. We have achieved a well-diversified tenant mix exposure with more than half of our tenants from essential and high growth sectors.
Distributable income for the year stood at S$125.6 million due to lower retail performance, higher interest expense as well as the absence of one-off proceeds2. Distribution per unit (DPU) on an enlarged unit base was 7.50 Singapore cents.
EXTRACTING VALUE
Throughout FY 2022, we focused on proactively managing our assets and enhancing our retail portfolio. To this end, we engaged in asset enhancement initiatives (AEIs) and space reconfigurations to launch new trending retail concepts and position our malls in preparation for China's reopening. Our asset enhancement strategy harnesses a phased approach that considers lease expiries, market opportunities, consumer trends and the right tenant mix to enrich visitor experience.
At CapitaMall Xizhimen, we redesigned a total of 879 sq m to curate an optimal mix of tenants and services to increase customer stickiness. The refreshed tenant list includes the mall's first electrical vehicle tenant, Mustang Mach-E; Huawei's top-tier Multiple Sales Centre (MSC) store, the first MSC concept store in a Beijing mall; as well as trendy F&B offerings. Completed in 1Q 2022, the reconfigured area registered a 46.0% increase in total rent.
In 3Q 2022, we concluded Phase 2 of our AEI at CapitaMall Wangjing. Recognising the shift in consumer preferences, we transformed a space previously occupied by an old department store into a 7,100 sq m high-quality experiential zone featuring more than 70 new shops, of which 60.0% are new-to- Wangjing market concepts. Since its completion, the mall has experienced a notable uplift in peformance, achieving around +140% rental reversion for the reconfigured area with the new space attracting strong interest from tenants and attaining 100% occupancy at opening3.
Translating the success to another mall, we embarked on Phase 2 of rejuvenating CapitaMall Yuhuating. We recovered around 8,900 sq m of anchor supermarket space to offer a diverse mix of specialty tenants, injecting more lifestyle offerings and experiences. Post-AEI, level 2 of the revamped mall will feature IT and digital concepts, while level 3 will house family-themed tenants including children's fashion and entertainment outlets in addition to education and sporting brands. Slated for completion in 1Q 2023, the AEI is expected to yield a return on investment of over 15%. As of end-2022, about 82.0%4 of the area has been pre-leased.
Elevating the shopping experience at CapitaMall Grand Canyon, we are reconfiguring 1,700 sq m of fashion space recovered from a mini-anchor tenant to house a diversified mix of electric vehicle, F&B, beauty and lifestyle tenants. Post-reconfiguration, the area is expected to generate an additional 7.4% of the mall's FY 2022 revenue. Currently, 77% of the space has commenced operations with the remaining scheduled to open by March 2023.
Throughout the year, we stepped up our drive to engage customers and cement our malls as prime social gathering spots. The immersive shopping experiences at our malls centred on key celebrations and offerings that shoppers enjoy, from summer bazaars and events commemorating Chinese Valentine's Day, to a fashion extravaganza and beauty pop-up stores.
POSITIONING FOR GROWTH
Leveraging our wealth of experience and Sponsor platform in China, we align and shape our business in tandem with the country's economic and development plans. Our move to acquire new economy assets has not only diversified our risks, but also placed CLCT on track to leverage the structural upgrading of China's economy and benefit from the country's innovation-driven growth. These properties contribute to the greater stability and vibrancy of our overall portfolio.
As part of our portfolio reconstitution strategy, we will cease operations at CapitaMall Qibao, which is master-leased from a third party and with its lease expiring in January 2024. Amidst COVID-19 policies and lockdowns in Shanghai, CapitaMall Qibao was unable to operate normally in 2022, with several intermittent closures. This, coupled with the imminent master lease expiry, led to an expected decline in business activities. We are working towards closing the mall by 1H 2023 to reduce operating expenses. The mall's closure is expected to have minimal financial impact as it accounted for 0.11% of CLCT's portfolio valuation as at 31 December 2022.
With the aim of achieving a well-balanced portfolio, we will press on with our reconstitution strategy of capitalising on new acquisitions and divesting non-core matured assets. Our long-term growth roadmap will involve a refreshed portfolio mix comprising 30% retail, 30% new economy and 40% commercial/ integrated developments. The capital generated from divestments will be deployed towards strengthening our balance sheet and capturing strategic growth opportunities.
ANCHORED IN STRONG FUNDAMENTALS
Underpinned by a proactive capital management strategy and supported by diversified funding sources, we continued to maintain a healthy financial position. Our cost of debt remained competitive at 2.97%5 per annum at the close of the year and we recorded a gearing of 39.6%6, below the regulatory limit of 50.0%.
As global interest rates rose during the year, we adopted a three-pronged approach to mitigate its impact. First, we maintained a mix of onshore and offshore borrowings, with the former allowing us to benefit from China's lowering of lending benchmark rates. Second, we upheld a well-staggered debt maturity profile with an average term to maturity of 3.4 years. Having refinanced our loans early in 2022, we secured the refinancing requirements for borrowings due in 2023, well ahead of their maturities. Lastly, we sought to ensure stability in interest expenses with around 71.4%7 of our total term loans pegged to fixed rates.
To minimise the impact of foreign currency fluctuations, we hedged approximately 54.5%8 of our distributable income into Singapore dollars. Collectively, our disciplined capital management approach and established track record have placed us favourably with banks and the wider capital markets for financing options.
TOWARDS GREATER SUSTAINABILITY
At CLCT, we view sustainability as a continuous journey, where we constantly strive to do better. Guided by CapitaLand's 2030 Sustainability Master Plan, we remain committed to making a positive environmental and social impact in the communities where we operate.
Bearing testament to our sustainability commitment, FY 2022 marks the second year that CLCT is issuing a standalone Integrated Sustainability Report and participating in the GRESB Assessment.
Every AEI we embark on considers the environmental impact and incorporates green initiatives into our rejuvenation work where appropriate. This led to Rock Square and CapitaMall Wangjing receiving the LEED Gold certification in 2022, accrediting them as energy efficient buildings with reduced carbon emissions. Leveraging on our progress, we have actively applied for and won various green awards and subsidies from city governments for both our retail malls and business parks. Spurred on by this achievement, we are pressing ahead to attain green certifications progressively for all our assets.
On the operational front, we initiated green leasing in our retail and business park portfolio from 4Q 2022, encouraging tenants to incorporate environment-friendly features in their premises and adopt sustainable practices.
During the year, we organised a series of green events, including Earth Hour 2022, at several retail malls to raise environmental awareness. Working with the community, CapitaMall Aidemengdun launched the 'My First School Bag' programme, which provided school bags and daily necessities to underprivileged school children from Shoushan Village Primary School in support of their educational endeavours. Aimed at encouraging healthy lifestyles among our tenants, our business parks hosted numerous sporting activities, training programmes and events, designed to promote work-life balance, mental health and gender equality.
OUTLOOK
China has passed the peak of its COVID-19 situation. With the country lifting its restrictions and renewing its drive for growth, we are confident of an improved economic outlook and business environment for 2023.
Since the emergence of COVID-19 in 2020, we have remained steadfast in our pursuit to achieve better diversification and create a portfolio that is aligned with China's long-term growth vision. To accelerate economic recovery, local governments have implemented supportive policies to stimulate the domestic consumption market with most Chinese provinces announcing growth targets above 5% for 20239. We have also observed positive recovery in portfolio shopper traffic, which grew 57.9% week-on-week in the final week of December 2022. With the improving outlook, CLCT's retail portfolio is expected to shift to a positive trajectory in 2023, bolstered by strategically timed AEIs and unit reconfigurations.
As we build our financial capacity with a healthy balance sheet, prudent capital management and appropriate hedging policies, we will actively access our Sponsor's pipeline assets to seek out accretive acquisition opportunities and enhance portfolio quality amidst China's reopening, in line with the country's drive for high quality development and growth.
ACKNOWLEDGEMENTS
On behalf of the Board, we would like to thank Mr Christopher Gee Kok Aun and Professor Tan Kong Yam, who stepped down from their roles as Non- Executive Independent Directors and members of the Audit Committee, with effect from 1 May 2022. We are grateful for their invaluable contributions and long service to the Board.
At the same time, we welcome Professor Ong Seow Eng and Ms Tay Hwee Pio, who were appointed as Non-Executive Independent Directors with effect from 1 January 2022 and 1 May 2022 respectively. Both Directors were appointed as members of the Audit Committee on 1 May 2022.
Amidst an uncertain operating environment and the challenges of the past year, we are thankful for the steadfast support of our Unitholders, business partners, tenants and employees.
We adopt a long-term view in managing our business in China. Having passed the worst of the COVID-19 situation in China, we are forging ahead to ride the country's swift reopening and growth prospects. As we stay focused on strengthening our business fundamentals and enhancing portfolio quality and resilience, we retain an unwavering commitment to generate growth and deliver sustainable returns to all Unitholders.
Soh Kim Soon
Chairman
Tan Tze Wooi
Chief Executive Officer
10 March 2023
Excluding CapitaMall Qibao.
In reference to one-off compensation relating to CapitaMall Nuohemule and insurance proceeds received for CapitaMall Grand Canyon in FY 2021.
As at 1 October 2022.
By NLA.
Ratio of the consolidated YTD interest expense for the respective financial year reflected over weighted average borrowings on balance sheet for that financial year.
In accordance with the Property Funds Appendix, the aggregate leverage is calculated based on the proportionate share of total borrowings over deposited properties.
CLCT's interest rate hedging policy is to hedge at least 60% of total debt (exclude RMB denominated and Money Market Line (MML) loans) into fixed interest rates.
CLCT's foreign exchange hedging policy is to hedge at least 50% of undistributed income into SGD.
Reuters, Most Chinese provinces set growth targets of above 5% in 2023, 18 January 2023.